Many Kindle users have to face the need to convert files from EPUB to MOBI. For these purposes, we wrote a small manual about how you can get the format you need.
Using the Calibre
One of the top applications for working with e-books is Calibre. It is completely free and you can use it in any stationary operating system, for example, Windows or Linux. In addition to the function of "ebook converter" Calibre supports the management of your books, synchronization with devices for reading electronic books (Amazon, Android, Apple, Barnes & Noble), in general, all you need any book reader. But how powerful it is, it can be difficult to manage it. And what if there is no computer at hand?
Using the online converter EPUB to MOBI.
Online-converting allows you to convert from EPUB to MOBI without any limitation. Just select your file and click convert. At the moment we can only convert your file without any settings.
With the help of the android application "Ebook Converter"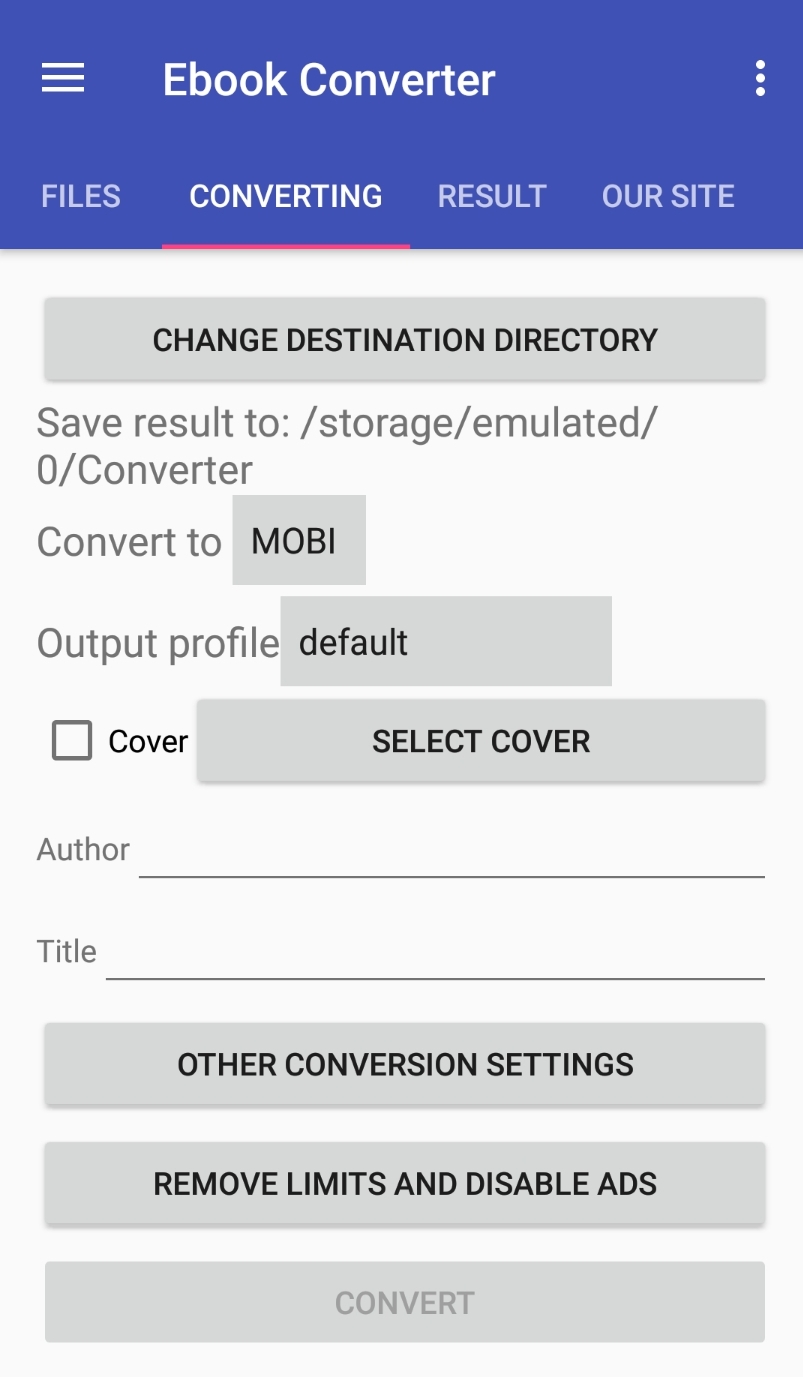 Our application "Ebook Converter" has a number of advantages over the web service, thanks to our users we have improved it and now it has a number of functions:
Batch conversion of files (in the free version you can convert 5 files at a time, in a paid version - without limitation)
Adding the author and title of the book.
Adding your cover.
The "share" function is useful for those who want to forward the received files to their email. And we support the transfer of not one file, you can send all at once.
Select an e-book profile.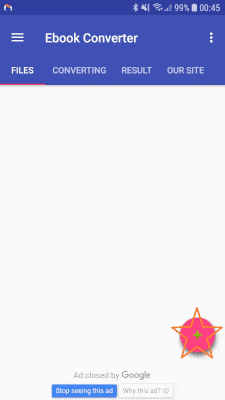 How to convert EPUB to Kindle
The main format for reading on the device or in the Kindle application is MOBI. Therefore, you just need to convert the file into MOBI and upload the file to the device.
But there is another way to transfer the file, this is to send it to your special mail in the service.
It looks like this: find the e-mail in the settings of the Kindle application, it's called "Send-to-kindle email adress" and will look like: your_nik@kindle.com.
After sending the file, it will be added to your account automatically.
Security of converting files
We know how important it is to ensure the safety of your personal data and your files. Therefore, immediately after the conversion, we delete the originals. The results for downloading from the web service are available only to you by link within 24 hours. We delete the conversion results for the android application in an hour. We do not use your files in any way and do not transfer your files to third parties. For analysis - we store in our database only the file name and type of conversion, without any user identification. Thank you for trusting us.
What is the EPUB format
EPUB (Open eBook File) is a digital book format that is used if the main part of a document is text. It enables publishers to publish a single file, while for documents with floating layout it is ensured compatibility of hardware and software.
.epub (Open eBook File) is an e-book format that is a ZIP archive with texts in HTML, XHTML, PDF formats, XML edition and vector graphics (SVG), stylesheets, embedded fonts, etc.
It is a release of the OEB format (Open eBook Publication Structure).
What is the format of MOBI
MOBI (Mobipocket eBook) is a format specially designed for the Amazon Kindle device, which from other formats of digital books supports only PDF and TXT.
.mobi (Mobipocket eBook) is a digital book format with text based on XHTML code, which allows the use of frames and JavaScript elements. The MOBI format includes support for copyright protection for DRM (Digital Right Management), images and tables. This format provides for interactive operations, such as the inclusion of corrections and notes, as well as the creation of annotations and bookmarks. MOBI-format was developed to optimize graphic images on mobile devices with low performance.